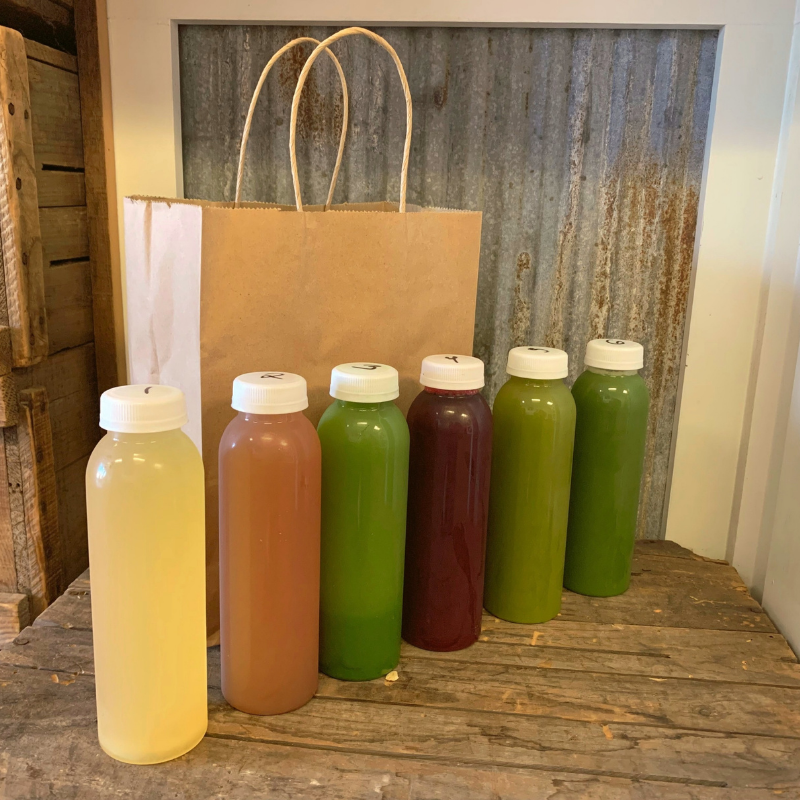 Why Cleanse? Because our bodies deserve a fresh start, just like our homes!
Think of it as a refreshing spring cleaning for your inner self. From the sneaky pollutants in the air to the hidden chemicals in our everyday products, toxins can build up and wreak havoc on our well-being.
But fear not! At the Organic Juice Barn, we've got the ultimate secret weapon: juice cleansing! It's like giving your body a superhero cape while flooding it with a power-packed dose of organic vitamins, minerals, and enzymes. Trust us, there's no 24-72 hour experience that can rival the incredible health benefits of an organic juice cleanse. And guess what? You don't need expensive tests to know if you could use a cleanse.
If you're feeling sluggish, munching on processed foods, or simply needing a reset, our juice cleanses are here to help. Shed toxins, restore balance, and unleash your superhero potential with our Blood Purification, Intestinal (Gut) Healing, and Digestive Organ Detoxification. Get ready to rock that healthier skin, enjoy more restful sleep, and embrace mental clarity like never before.
Remember, a successful cleanse starts with the right mindset and a sprinkle of determination. So, let's clean up, power up, and embark on a rejuvenating journey together!
Whether you decide to complete a 24 hour or a 14 day cleanse, you will be doing your body a huge favor: Blood Purification, Intestinal (Gut) Healing, Increased Functionality and Detoxification of Digestive Organs, Alcohol and Drug Detoxification, More restful sleep, Healthier Skin, Reduced allergies, Anti-aging, and Mental clarity.
1. Metabolism Boost
Reduce hunger and boost your metabolism with lemon juice, maple syrup, water, turmeric & cayenne pepper.
2. Seasonal Juice for Immunity
Local, organic goodness to boost your immunity and help gently cleanse with lemon, ginger, raw honey, elderberry, and echinacea.
3. Detox
A beautifying blend of antioxidant, anti-inflammatory, and detoxifying properties: Kale, celery, cucumber, apple, romaine, turmeric, lemon & ginger.
4. Energizer
Boost energy and increase stamina with carrot, apple, beet & ginger.
5. Eliminate Inflammation
Quiet inflammation and increase metabolic function with yummy pineapple, spinach, kale, romaine, decaf green tea, ginger & turmeric.
6. Lean 'n Green
Improve digestion, immunity, and weight loss while reducing inflammation with this kale, romaine, celery, lemon, cucumber & parsley juice.